A weekly update of content from around the web including modern takes on the ancient world, material related to this past week's articles, and a look at what our editorial staff is reading.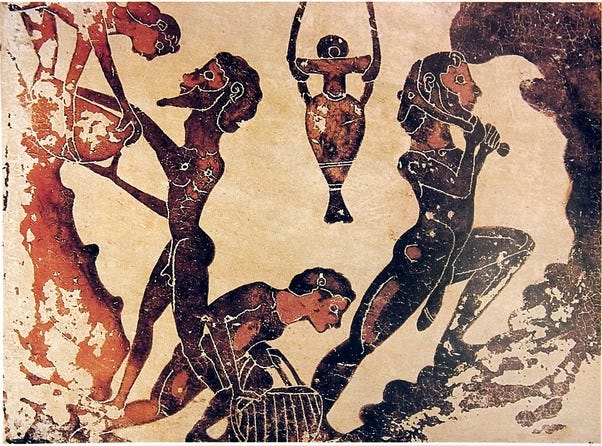 This week in classics: 
Remembering Vergil scholar Bill Nethercut.
Even Snoop Dogg wants you to read the syllabus.
"Archaeology in the Time of Black Lives Matter": a resource list.
Myths of Athena, retold so she's called "ma'am."
Pandemic bakers are attempting ancient bread.
Why do we love school supplies so much?
Ancient Greeks did not like being enslaved.
---
This week in Eidolon history:
2020: How syntax can be a tool or a weapon, in the language classroom and in the fight against racial injustice; modern China's ancient heritage diplomacy.
2019: Nandini Pandey on not bringing home a baby; Mary Magdalene, digital queer. 
2017: Classics and the dream of white Europe.
2016: Consider the table; (s)expertise in antiquity and the digital age; Hillary Clinton and the rhetoric of trust.  
---
From the editors: Secret gyms and the economics of prohibition; the terror crocodiles with banana teeth; these inmates in a Michigan prison prepared a feast honoring George Floyd; when your BFF gives birth to your babies (all four of them) (at once); a professor's six-month journey learning everything on MasterClass; how workers pluck 24 billion cherries in eight weeks; the Youtubers who gave away their son; good luck doing this 30-minute recipe in 30 minutes; Rob Delaney on the pain and pleasure of his vasectomy; the beautiful enigma of Rhode Island's calamari man. 
---
Eidolon.pub is an online journal devoted to engaging the personal, the political, and the classical. Pitch us essays here. Send links via email, Facebook and Twitter (@Eidolon_Journal). Enjoy our links? Consider supporting us as a patron, and check out our store for new Eidolon merchandise!